Design your own custom beanies with Custom Ink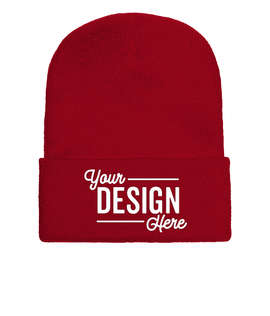 Yupoong Solid Cuff Beanie
$20.15 each for 30 items
Ink Limit: 0
Decoration Type: Embroidery
Specialty: false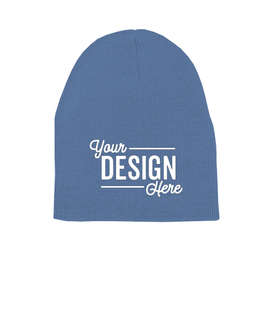 Yupoong Solid Beanie
$19.88 each for 30 items
Ink Limit: 0
Decoration Type: Embroidery
Specialty: false
Close
All inclusive price for 30 items:
1 ink color, 1-sided design
Free delivery
Free artwork review
Free artwork setup
Buy more, save more.
Watch your price decrease with each additional item in your order.
Custom Ink's Frequently Asked Questions
What are custom beanies?
Beanie is the common term for a variety of knit caps designed to keep your head warm in colder weather. These warm caps come in many styles, but are popular due to their simplicity and warmth. Beanies are typically tapered at the top, allowing for the bottom of the cap to hug your head for a snug fit. By adding your logo to one of these hats, you can create a custom beanie for your whole group.
What fabric is best for beanies?
Beanies are made from a variety of fabrics designed to keep your head warm. The most popular fabrics for beanies are wool, acrylic, and a mixture of cotton and polyester in the form of fleece. Acrylic beanies are the most common as they provide an exceptional amount of warmth and also take well to being dyed. Some feature fleece on the inside to make them even warmer and more comfortable.
Where can I buy custom beanies?
Custom Ink has a large variety of beanies in every color and style to help your group stay warm while looking stylish. We make it easy to customize your beanie with your own logo or you can design something from scratch in our Design Lab.
Can custom beanies be embroidered?
Custom Ink makes it easy to add custom embroidery to most styles of beanie. Simply head to our signature Design Lab to upload or create your design, and then select the custom beanie you wish to add it to. Our team of experts can help you with any design questions you may have.
How many beanies do I have to order?
The more custom beanies you order, the lower your price per beanie will be. To find out the total price of your custom beanies order before buying, use our easy-to-use
pricing tool
. You'll get your all-inclusive price with just the click of a button! If you're interested in finding out what a particular beanie's minimum quantity is, select a beanie and scroll down to "Additional Details" — you'll find quantity information under the Minimum Quantity section.